Attack Simulations For Cyber Security Teams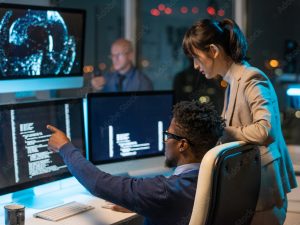 Train, measure and improve team responsiveness to threats through ultra-realistic simulations.
Cyber Team Sim from Immersive Labs enables organizations to prepare their teams for real-world cyberattacks through regular, collaborative training in complex and realistic virtual scenarios. The platform helps security managers identify skills gaps and areas for improvement in terms of judgment in various scenarios, so they can take countermeasures before real-world attacks occur. Cyber Team Sim includes analysis of technical tasks as well as assessment of collaboration within Red Teams or Blue Teams. New scenarios are released regularly to simulate the latest vulnerabilities and prepare employees for emerging threats
"In the real world, defending against cyberattacks is always teamwork," said Paul Bentham, Chief Product Officer at Immersive Labs. " It' s true that the skills, expertise and judgment of each individual team member are important factors. However, having transparency into how these individuals work together as a team during the various phases of an attack – from identification to defense – is the key indicator for organizations when assessing how well prepared they are for cyber threats. Regular training based on realistic scenarios noticeably improves the performance of cyber security teams in the event of an emergency, thus reducing companies' cyber risk.