Hitachi Vantara Grows by 35% in 2022 Compared to 2021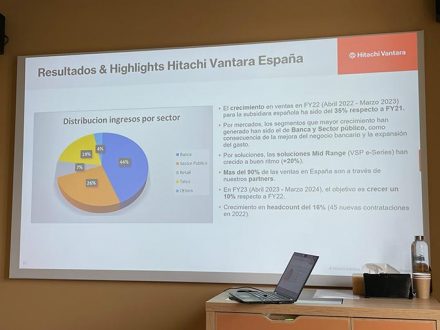 Hitachi Vantara closes 2022 with 35% growth thanks to interest rate hikes and public funds such as Next Generation.
Hitachi Vantara ended the fiscal year in Spain with a 35% growth compared to the previous year. Despite the economic uncertainty, the company has managed to improve its growth figures, thanks largely to the banking and public sectors, which have seen an increase in banking business and public spending.
Hitachi Vantara's growth
In terms of solutions, the Mid Range solutions offering (VSP e-Series), designed to facilitate hybrid cloud deployment, has seen 20% growth. This has enabled Hitachi Vantara customers to build a future-proof data storage foundation.
In addition, the effectiveness of the channel strategy implemented three years ago has been proven. This strategy has enabled Hitachi Vantar to consolidate the transition of the majority of sales to a channel-based distribution model, which now accounts for 90% of the company's total sales in Spain.
Valentin Pinuaga, general manager of Hitachi Vantara in Spain, said: "Despite the uncertainty, we have far exceeded our growth expectations and have consolidated our position in key sectors such as banking and the public sector. Panuaga also pointed out that the main reasons for this growth are the rise in interest rates and the impact of public funds from both national and regional administrations, as well as the European Next Generation funds.
Challenges and strategic trends
Antonio Espuela, Technical Sales Director at Hitachi Vantara for Spain, Portugal and Italy, defined three strategic challenges and trends for the company for the next financial year.
Firstly, there will be a focus on hybrid cloud, recognising that sharing services between the public cloud and the customer's data centre is fundamental. The hybrid cloud market is expected to grow 20.6% by 2027. Hitachi Vantara is working with leading vendors to deliver scalable, pre-engineered hybrid cloud solutions.
The second challenge is to optimise resilience and confidence in IT operations as organisations face cyber threats such as ransomware attacks. Hitachi Vantara offers efficient protection and recovery solutions against these attacks.
The third challenge focuses on sustainability and technology efficiency, considering the increase in data centre electricity consumption and greenhouse gas emissions. Hitachi Vantara has worked on reducing CO2 emissions from its systems and aims to achieve emissions neutrality in its factories and offices by 2030, and across its entire value chain by 2050.
Following the statement of objectives, Espuela said: "We work closely with industry-leading providers to offer complete and secure cloud solutions. In addition, we strive to protect organisations against cyber threats and reduce greenhouse gas emissions in our products to help our customers and achieve our own sustainability goals.
Digital solutions
As the final part of the press conference, Margarida Fontainhas Marques, vice president continental Europe and BU Digital Solutions at Hitachi Vantara, presented the company's progress and achievements since its merger with Hitachi Consulting more than a year ago. During the last financial year, Digital Solutions has experienced 38% growth in Spain, achieving its business objectives and collaborating on projects globally. In terms of expansion in the Spanish market, Digital Solutions stands out in the following key areas:
Hybrid Cloud: It offers a comprehensive hybrid cloud solution, from in-house servers to complete management of hybrid architectures, tailored to the demands of the Spanish market.
Data driving growth: Its strategy focuses on putting data at the heart of business decisions, combining technologies and data migration to drive customer growth in Spain and Europe.
Industry 4.0 expertise: Thanks to its operational technology (OT) expertise, it excels in sectors such as energy, rail and industry, offering IoT solutions to drive digital transformation in these industries.
Hitachi Application Reliability Centers (HARC): These specialised facilities provide application reliability services in the cloud, modernising and automating the management of cloud workloads using advanced tools such as AIOps or Cloud FinOps.
In conclusion, Fontainhas said: "From Digital Solutions, we offer a broad portfolio of solutions ranging from business consulting to the more specific layers of architecture and applications needed to effectively manage companies. In addition, our close collaboration with Hitachi's subsidiaries allows us to leverage their industry expertise, such as in the energy sector, where we offer complete solutions ranging from load substations to data analytics and remote management through IoT and video analytics.