Toshiba Puts Promise's Green JBOD Storage to the Test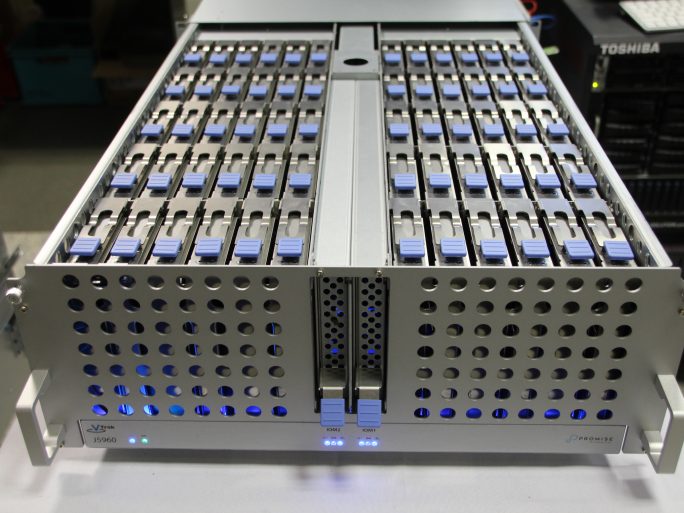 A Lab Report shows the performance level of VTrak J5960 JBOD VTrak J5960 using Toshiba HDDs.
Controlling carbon and greenhouse gas emissions in order to reduce the ecological footprint and achieve effective neutrality is a point marked in capital letters on all business agendas. Technology can help in this mission, in line with the Paris Agreement and the shared goal of limiting global temperature increase to 2°C.
One effective measure is to redesign data centers with the necessary modifications to keep energy consumption in check. Processing a huge volume of data 24/7 to ensure business activity should not be incompatible with striving for sustainability while shaping a modern storage infrastructure.
Climate initiatives encompass all areas of the data center. Organizations can implement many technical measures, ranging from waste heat reuse or chilled cooling, to environmentally friendly inventory development and state-of-the-art hard disk drives. Data is primarily managed with HDD technology.
Toshiba, which provides hard disk drives to organizations around the world, has put Promise's JBOD VTrak J5960 JBOD solution to the test by operating with its HDDs. The Japanese company has produced a Lab Report on this high-density storage system to test whether its green promise is real. This solution has been created to address today's high demand for data storage.
Toshiba has studied the potential of the new JBOD, which stands out for its green DNA, including a commitment to sustainable production and environmental protection, in combination with Toshiba Enterprise hard disk drives. This 60-bay JBOD was evaluated with 60 HDDs of 18 TB capacity, bringing the total to 1080 TB.
For the analysis, Toshiba used Microchip Technology's Adaptec SmartRAID Ultra 3254-16e/e raid controller and Broadcom's HBA 9500-16e host bus adapter. It reviewed operation, performance, acoustics and power consumption, with a focus on green attributes. The result has been a data center configuration with "a new impressive level," in the words of Rainer Kaese, senior director of Storage Products Business Development at Toshiba Electronics Europe.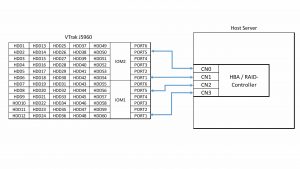 Energy efficient and easy to maintain
The J5960 is the shortest high-density JBOD ever to enter Toshiba's HDD lab: it has a height of 4U and a chassis length of 666 mm. For starters, this is already a big advantage over other systems. Many JBODs exceed 1,000 mm and require longer racks, as well as being involved in cabling problems. In this case, it matches the chassis of a typical 2U 66 cm server and fits conveniently into any existing rack.
Moreover, its hot-swappable IO modules pull out from the front. Since the connected cabling remains in the rear area of the unit, the task of replacing each IOM ends up being simpler. Rear swaps entail, by comparison, access through multiple power and signal cables.
Another interesting feature of Promise's proposal is the cover, which stays attached and remains on the rack when the J5960 needs to be removed for servicing. In practice, the JBOD will only need to be removed as far as the faulty unit requires it. The status LEDs are activated if the JBOD is removed from the rack, which saves power watts the rest of the time.
The J5960 puts all disks in an idle state by default when they are not accessed for a couple of minutes. It takes 1200 ms for the idle HDD to switch back to an active state. While on, with no disks, with an active SAS connection to the host, it delivers 100W. With raw disks in idle HBA, it reaches 305 W. Meanwhile, the active to reactive power ratio recorded is 0.96.
The study concludes that 100 W for a JBOD with dual IOM without disks is "an excellent power value", taking into account that the typical range in dual IOM solutions goes up to 200-300 W. Similarly, the 305W in idle mode with disks is surprisingly low compared to other 60-bay JBODs, which start at 400W and go up to over 400W. The high lambda factor means that the ratio of reactive power generated by the power supplies is very low, equivalent to 4% of the total.
Peak power figures of 640 W also "prove the JBOD's green credentials," according to laboratory tests conducted. There is a difference of less than 10°C between the temperature of the hottest unit and the coldest unit, with a maximum of less than 14°C compared to ambient temperature, for a long service life and in terms of reliability.
To measure power consumption, Toshiba used a professional high-precision power analyzer (R&S HMC8015). The tested solution used Linux (CentOS 7.9) and Windows (Windows Server 2019) host operating systems. During the process, different configurations were put to the test, with measurements of sequential throughput, random throughput and power consumption.
With SAS disks, the IOM modules of the JBOD were connected via mini-SAS-HD cables to the four mini-SAS-HD ports of the HBA 6e and the RAID controller. This derived a theoretical bandwidth access of 19.2 GB/s. Toshiba observed that the idle and active energies in RAID configurations are almost at the same level due to background consistency checks.
When using the JBOD with SATA drives with a single IOM configuration, and having no bandwidth limit, the IOPS values matched the SAS results. Meanwhile, the power consumption remained 70~80 W less compared to the equivalent configuration with SAS and dual IOM. The SATA drive consumed 0.4~0.8 W less than the alternative with SAS interface and a second IOM.
Research on Toshiba's VTrak J5960 JBOD storage with 60 HDDs shows that it is "energy efficient and easy to maintain." Among its advantages are efficient airflow and cooling management in full operation. Promise's model, the "most compact in its class" according to the report, achieves 15 GB/s sequential performance and about 30k random IOPS and offers more than 1 PB of capacity with just 500 W of power consumption.