Trends Episode 10: Future of Work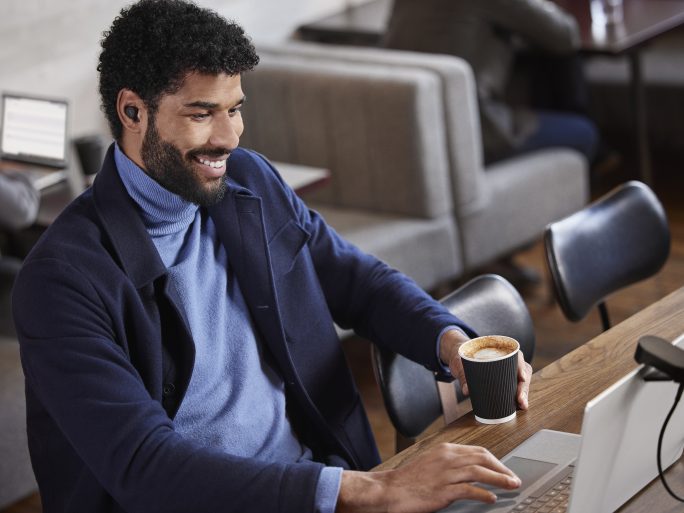 Real experienced collaboration: shifting from task-oriented to interaction-oriented workspaces.
What will happen in 2023? Whether the companies' predictions will come true in this way remains to be seen. The editorial team recommends taking a close look at who is making the predictions. Self-interest could influence the trend compass ;-).
Episode 10: Jabra
Companies are faced with the challenge of redefining their identity in the wake of the New Normal in the workplace. To help them provide the best possible work experience for their employees, they rely on tech support.
The Metaverse won't play a role in 2023, but….
In 2022, the metaverse made big waves – yet almost all employees still won't be moving their jobs to virtual worlds in 2023. This is mainly because the required technology has not yet matured. Nevertheless, it is already becoming apparent that companies will optimize and refine their approach to hybrid work in the coming year. At the same time, all indicators point to a metaverse-supported work environment in the medium to long term. Therefore, companies should have this development on their radar.
Employee turnover is on the decline
Cross-industry employee turnover is largely a thing of the past. In fact, the trend is expected to stabilize further in the coming, economically uncertain year of 2023. However, staying with a company is far from being synonymous with highly motivated employees. To reverse the long-standing trend of declining employee engagement, managers need to show more appreciation. Managers should take into account the financial challenges facing the younger generation in particular and the changing role that work plays in people's lives. With this in mind, managers would be well advised to keep an eye on and recognize the good work of their employees above all else.
Digital benefits are becoming more important
A recent Microsoft study found that 76 percent of employees stay with a company longer if they benefit from training and development. Even in times of virtual work, personal and professional development must be encouraged. This means that technology used for work also influences the way employees develop as professionals and as people. In the coming year, companies are expected to increasingly integrate digital benefits such as online courses, app subscriptions to promote mental health, and professional collaboration technologies into their culture to improve the work experience for all.
The transformation to the super office
The Jabra Hybrid Ways of Working Report 2022 shows that about half of companies worldwide have transformed their offices in the past two years. For workers, the current focus is on finding ways to collaborate in a way that is perceived as genuine. Office spaces must therefore improve professional and interpersonal collaboration compared to working from home. In 2023, therefore, there will be a shift from task-oriented to interaction-oriented workspaces. This means that real estate space will be eliminated in favor of more focused and purposeful offices with technologies that allow people to experience authentic interactions with all their colleagues – no matter where they work from.
Mental health as a priority
With the recession looming and consumer demand slowing, many companies expect 2023 to be a critical year. In addition to corporate earnings, macroeconomic uncertainty is also putting a strain on the mental health of individual employee:s. If companies are to collectively weather this storm, leaders must take proactive steps to support their employees during this uncertain time.