Digital Office for Brewers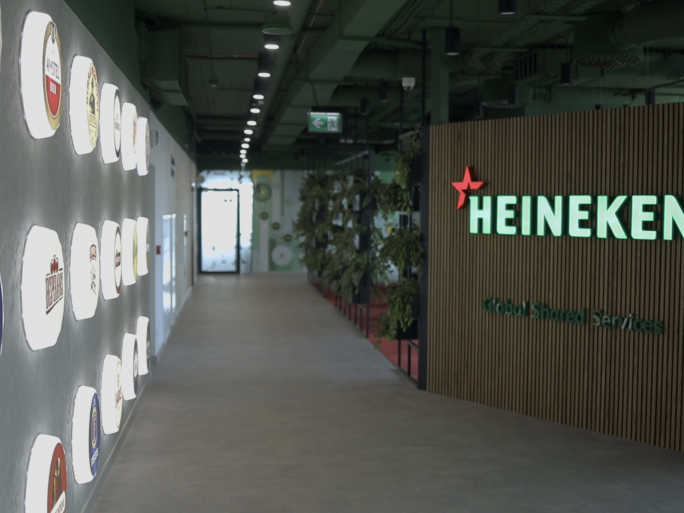 In Poland, Heineken offers employees a modern working environment that will serve as a blueprint for other locations.
Heineken's Shared Services Center in Krakow enables a hybrid work model for nearly 1,500 employees. The decision to move the finance and operations shared services center to Krakow provided an opportunity to re-evaluate infrastructure requirements and select the best approach for the campus network. By modernizing its Polish office, Heineken also aims to attract talented, skilled employees from across Europe. The move to a managed services model is also intended to ease the burden on Heineken's small in-house IT team.
"Our employees around the world belong to 27 different nationalities and speak 17 different languages. Therefore, we were aware of the important role that effective communication plays in a successful business," says Ewa Szalewska, of Heineken. For many companies, a strategy for hybrid working is still rather a novelty and, according to the results of an NTT study, a challenge for 80 percent of companies.
Migration to the cloud
To implement the hybrid strategy, one of the top priorities was to move enterprise services from the previous on-premises model to the cloud. Therefore, the entire LAN and contact center infrastructure was migrated to a managed services model using Cisco solutions.
Also part of the Krakow office are systems that support convenient and creative collaboration, such as for booking desks, parking spaces, conference rooms, and even storage bins for personal items. Employees get a preview of who plans to come into the office on a given day and where they will be sitting, which helps with team collaboration. Data collected through this feature also provides Heineken with valuable feedback on how different areas of the office are being used.
Hardware for hybrid work models
NTT has collaborated with Logitech on hardware solutions for remote work. The Krakow office is equipped with cameras, audio systems, video terminals and wireless presenters that improve the quality of work. "All employees use the same interface in the office and at home. The unified system enables simple and smooth business processes. The solutions used are modular, so we can expand or reconfigure them just as easily as we can scale them later as needed," says Bartosz Gruza, Manager at Logitech.