Digital Realty: "The more Electricity Consumption in the Datacenter, the More Sustainable the Economy will be".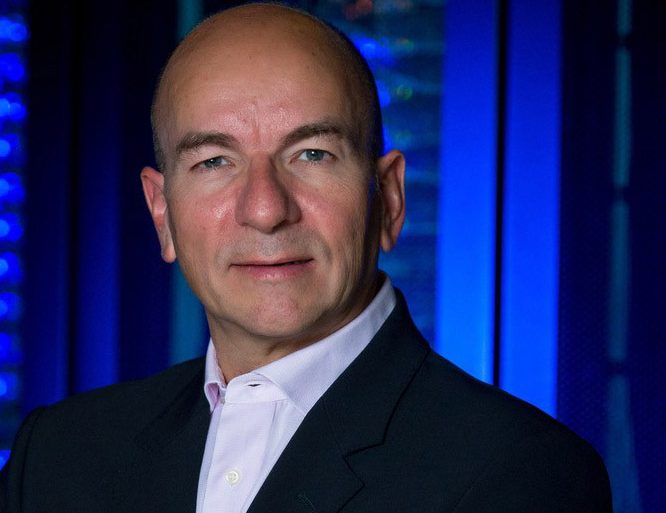 We interviewed Robert Assink, CEO of Digital Realty in Spain, to talk about the datacenter sector (with Madrid as the 'digital hub' of Southern Europe) and other issues of great interest such as the arrival of hyperscalars in our country or sustainability.
The datacenter, in any of its modalities, has become the nerve centre of digitalisation. It is a fact that the public cloud is being adopted exponentially, but in many cases, it would not be possible without certain companies specialising in colocation and the interconnection of telecommunications networks.
This is the case of Digital Realty, formerly known as Interxion, which specialises in the construction of data centres to serve customers who want to place their infrastructure in facilities where electricity supply and connectivity are assured, as well as other services such as physical and digital security.
In addition, they serve as a link between their clients and large hyperscalars, as well as to bring content streaming services such as Netflix to end users.
To find out more about this world, we interviewed Robert Assink, Managing Director of Digital Realty in Spain, who has been working in this sector for several decades and has a great vision of a market in full expansion and mainly focused on sustainability.
-What is the current state of the datacentre market in Spain?
Currently, the Spanish datacentre market is one of the fastest growing in percentage terms. It is true that we started from a smaller base, but there is a significant projection for the coming years. For example, in Madrid we are going to go from 100 megawatts to 350 megawatts. This is the power related to companies specialising in data centres that provide services to other companies, such as Digital Realty.
In our case, as you know, we are finishing the construction of our fourth data centre in Madrid, MAD4, which will be the largest in the capital. We have also started to demolish some existing warehouses in Barcelona and we are awaiting the building permit for new facilities, specifically in Sant Adrià de Besòs.
-There is increasing talk of Madrid as a digital hub in southern Europe. What can you tell us about it?
It is a reality. We launched this concept in 2018 as a result of a market study we carried out and it has been growing stronger over time. At that time we were three companies specialising in this sector and now we are six. In a couple of years we will be nine colleagues.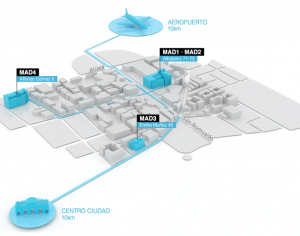 Our campus, made up of four datacentres in Madrid, is already serving 400 interconnected companies and is the campus with the highest connectivity in southern Europe.
-Your business model is also establishing itself in the market and is the forerunner of this digital hub, to what extent is this the case?
We specialise in providing these data centre facilities to multiple clients so that they have the best interconnection and very demanding levels of availability and security. Not all companies have this in-house capacity in their computing, storage and networking centres, so they bring these resources to our datacentres to have those specifications so they can focus on their business. In practice, they are outsourcing those capabilities that we specialise in.
-You talk about companies that are peers, but they are also your competitors. In the ICT market this is a trend that is occurring in different areas and it seems that yours is no exception. I am referring to 'coopetition', or collaboration between different companies that are competitors. What is your approach in this respect?
Collaboration with our competitors starts with the creation of the Data Centre Association, SpainDC. We are working together for the good of the sector, to achieve changes in the Laws, to defend the interests of our clients and to explain to the general media what our functions are.
But at the operational level we do not work together. If a client has a data centre in our facilities and another in one of our competitors', we simply facilitate things for them, but the connectivity between the two data centres is handled by the telecommunications operator of their choice. We are not a network operator, nor do we want to be.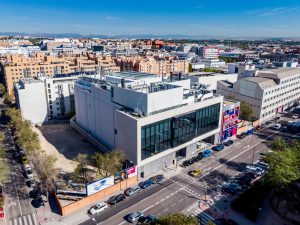 In the basement of our facilities we leave the dark fibre ready and it is the customer and the operator who are responsible for 'lighting it up' to begin the transfer of information between the two points.
On the other hand, network operators are also our customers, so they usually already have these routes and fibre cables deployed between the main points where there is business, so they only have to enable the relevant ports for data traffic to be activated.
For example, the number of cables and chests deployed by operators between MAD1 and MAD3 is very significant.
-Madrid as a digital hub in southern Europe is growing, but other European hubs such as Amsterdam or London are still leading the way. Are you closing the gap with them in terms of capacity?
We come from a very small installed base and we are growing a lot. We are closing the gap but, realistically, the ones you mention are still much bigger markets.
These are distances that are shortening not so much in terms of capacity but in terms of data traffic. In southern Europe we are seeing huge growth in this respect. One of the reasons for this is Spain's distance from the United States, which is much shorter than the distance from the United Kingdom or Amsterdam. When it comes to laying submarine cable, it is more profitable to do it to the Iberian peninsula, so the main players are carrying out these connections. The same is true for South America.
We do not have the capacity to measure traffic as we do not see what is moving inside our cables, but companies such as TeleGeography or DE-CIX do have verified information that indicates a much higher traffic growth in southern Europe than in other hubs.
-I understand that you are very aware of future investments by other companies in submarine telecommunications cables, what can you tell me about them?
There are many projects that have been announced and many others that have not yet been announced but where very significant investments are in the pipeline. Until about twenty years ago, the companies that invested in this submarine connectivity were the classic operators, the "telcos" of the world. Now it is mainly other players that are investing heavily, as their business model is based on the content and data that is transferred. This is the case of Meta, Microsoft, Google or Amazon, among others. They are very interested in interconnection between continents to improve the quality of their services. These companies are investing much more than traditional telecom operators.
"Energy efficiency in our sector is among the best compared to other industrial sectors".
For example, the latest submarine cable to arrive in Bilbao, deployed by Telsius, a subsidiary of Telefónica, had already been sold to Microsoft, Facebook and Amazon, while only a quarter of its capacity was for Telefónica itself.
All these submarine cables that reach (and will reach) the coasts of the peninsula terminate in Madrid by land. Once here, more cables are distributed to any other location to interconnect organisations that do not reside in the capital.
-You mainly work with a billing model based on electricity consumption. How is the energy crisis resulting from the conflict in Ukraine affecting you?
Yes, it is one of the three main concepts of our billing model for companies. Two of them are fixed: the contracted power and the space they want to occupy. The third is variable: the electricity consumption they are making. We are not too much impacted by the rise in electricity prices as we work with long-term contracts.
It is true that in the last two or three years there have been small increases in the price of electricity consumed in our facilities, but last year we signed a 10-year contract, until 2031, which allows us to guarantee fairly stable electricity costs. This is a contract with Acciona whereby all the electricity consumed in our data centres will have been generated from 100% renewable sources.
Overall, our business in Spain has been less volatile than in other countries, so we have not had to pass on these costs too much in our customers' bills, when in other markets the cost of energy consumption has multiplied by two or three times.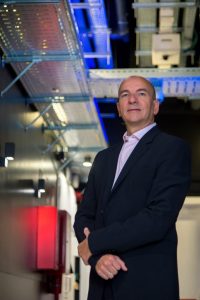 Until two years ago, its production was very small, but we have managed to buy it for our generator sets. The diesel we consume is very little as it is only used to generate electricity in the event of a grid failure, so at a business level it does not have a big impact, but it does have an impact on our joint commitment to reduce CO2 emissions.
Moreover, the little diesel we consume and the CO2 emissions it generates in the testing and maintenance of these generators has been offset for several years now by planting trees.
Sustainability has always been very important to us, it has been in our DNA from the very beginning. Energy efficiency in our sector is among the best compared to other industrial sectors.
However, almost more important to me is the sustainability that our customers generate through the service we provide them. These companies are moving towards digitalisation, which also has a positive impact on reducing emissions.
For example, teleworking facilitated by this digitisation allows for less car travel, less air travel, etc. The link between digitalisation and sustainability is beyond doubt.
-… and data centres play a very important role in digitalisation.
Exactly. The more electricity consumption we have in the data centre sector, the more it will be digitised, the more sustainable the economy will be and the more CO2 reduction will occur. That's because more digital processes will happen inside the datacentre, which is designed to improve energy efficiency.
-This is closely related to cloud computing in its various forms, to what extent is this the case?
Cloud computing is the big driver of digitalisation and also democratises access to technology. Before this model, it was very expensive for a medium-sized company to buy the technology needed to run its business, but with the pay-per-use model in the cloud, they can acquire the technological resources they need without having to make huge investments.
Thanks to the software and those resources that are available to any organisation, they can digitise much faster, improve production processes, improve the customer experience and, ultimately, provide a better service, which in practice contributes to a more sustainable economy.
To what extent do the new cloud regions being opened up by hyper-scale providers such as AWS, Microsoft, Google Cloud, IBM and Oracle in Spain impact your business? With several of them you already had dedicated interconnection points to other international regions?
And they will continue to exist. There are many customers who will be able to continue using these dedicated connections available on our platform to connect to cloud regions such as Dublin, Frankfurt or Amsterdam.
The fact that these large providers are coming to Spain later this year will be very positive for everyone. Regardless of whether these providers use their own facilities or those of other companies like ours to host their infrastructure, the multicloud model will continue to expand strongly, so that many companies will decide to have part of their computing resources in the public cloud and part in private data centres located in our facilities, which offer, moreover, the best and most complete connectivity with these providers. The two models will coexist perfectly for a long time to come.
-What about the service you already provide to companies to connect directly to other international regions through your access nodes, will it still be necessary?
This service of interconnection to hyperscalars is relatively unimportant in our business but an additional service we provide to our customers. However, it is important to keep in mind that in order to connect to the services of these providers you have to go through their access nodes, it is a trend that they are implementing as part of their value chain. And we are the only provider that physically has all five major nodes on our premises [referring to the AWS, Microsoft Azure, Google Cloud, IBM Cloud and Oracle Cloud nodes]. So most of the time when companies want to access hyperscale services, they will have to access their networks through these nodes (and pay for it).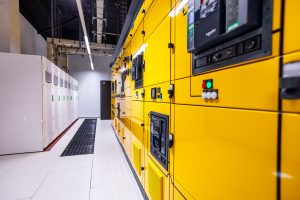 Moreover, when a customer wants to move their data from one public cloud region to another, they will have to pay for that data traffic, with the exception of IBM Cloud regions, a company that has already announced that it will not charge for this service.
-Speaking of IBM Cloud, I would also like to ask you about the details of this project in which the manufacturer has chosen Digital Realty's facilities to locate its region in Spain instead of building them from scratch as other providers such as AWS have done. What can you tell us about this?
At this point, it is important to return to the question about our colleagues, those who are also competitors. IBM Cloud comes to Madrid precisely because it finds several providers such as Digital Realty to deploy its redundant cloud region, specifically in three different locations: the facilities of NTT, Data4 and Digital Realty. Without their presence, this project would not have become a reality. The data and applications of IBM Cloud customers in this region will be replicated in these three locations to ensure their availability on the IBM architecture.
This is the first time in my career that our success is also dependent on our competitors.
That said, IBM has become an important customer for us. Their infrastructure will be in MAD4 and for this first deployment, they have acquired 1.5 Megawatts out of a total of 30 Megawatts. They themselves made public that their first customer is Caixabank.
-Your MAD4 datacenter is being built with the most innovative technological advances in the industry, what are its main features?
It is a building that has been designed with sustainability in mind since we laid the first stone. Within this facility, we looked at optimising energy efficiency and engineering design to employ the latest data centre cooling technologies. Here we use 'Dry Coolers', a technology that allows us to use outside air to cool the water that cools the servers in a closed circuit so that we only consume the water to fill the circuit once.
-What is the current capacity used in your data centres?
MAD1 and MAD2 are practically at 95%-100% occupancy, while MAD3 is at around 80% occupancy. MAD4 will be built in different stages depending on demand, but the first one that is ready could already have an occupancy rate of 70%. This is not a relevant figure precisely because of this modular capacity to build and expand capacity over time up to the 30 megawatts I mentioned earlier.
-To conclude this interview, what has the acquisition of Interxion by Digital Realty meant for you?
Digital Realty didn't have much of a presence in Europe, so our businesses have complemented each other very well. I had previously acquired some facilities in London, Frankfurt and Amsterdam, but they were not a big volume as they were mainly focused on North America, South America and Asia-Pacific.
Apart from that, Digital Realty's client portfolio was very different from what we are used to at Interxion as they were mainly targeting large accounts. Before the integration, there used to be one or two clients in each building of this firm, whereas we have always handled many smaller accounts and also tried to create a community of companies that can network with each other.
The international presence will also give us access to clients from other regions who need to expand into Europe and vice versa.
Financially, Digital Realty had a stronger balance sheet and financial strength than Interxion. At the time of the merger in 2019, valued at about $8.7 billion, they had a market value of about $25 billion.
This means that they were able to get better terms when seeking financing in the markets, something that we can benefit from after the merger and which will give us greater capacity for growth in the future.
The result of the merger between Digital Realty and Interxion has resulted in a company that would be among the 3 or 4 largest in the world in the datacenter sector.