Huawei Raises Yottabyte Era at IDI Forum 2023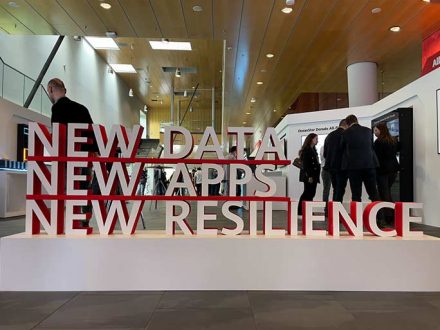 Huawei proposes a digital infrastructure focused on business solutions ready for the yottabyte era.
Under the motto "New Apps, New Data, New Resilience", Huawei's Innovative Data Infrastructure Forum 2023 (IDI Forum), which took place on 23 and 24 May in Munich, brought together experts, customers, partners and the press to discuss current data centre solutions and to explore the future of digital infrastructure in the yottabyte era.
As usual, the opening of the congress began with a keynote speech by Jim Lu, president of Europe and senior vice president of Huawei. Lu noted that during 2022, overall operations were solid and the ICT business maintained stable growth. At the same time, Huawei maintained strong investment in R&D which accounted for more than 25% of its annual revenue, probably the highest percentage in the entire industry.
Commitment to Europe
Regarding the role of the European region for the company, Lu pointed out that Huawei has a 23-year presence in Europe and has been committed to the continent and contributing to its regional development. According to a study by Copenhagen Economics, in 2021 Huawei contributed significantly to the European economy, generating an impact of €12.3 billion and supporting more than 140,000 jobs in Europe, which has led to the company being recognised as a "Top Employer" for three consecutive years.
Europe has adopted an advanced vision, where it has identified green transition and digital transformation as key strategies. With specific goals for carbon neutrality and digital transformation, Huawei's vision aligns closely with the European strategy. The company will continue to collaborate with customers and partners to achieve green and digital transformation in Europe. Currently, the company has established alliances with more than 5,000 partners and has 3 OpenLabs in Europe, where it collaborates with more than 100 solution partners on joint innovation projects. Through these partnerships, Huawei offers innovative, tailor-made products to customers in various industries, such as education, retail and logistics, to drive digital transformation in Europe.
Sustainable Storage
Huawei has a strong belief that information and communication technologies (ICT) can contribute to sustainable development and building a greener world. "On the one hand, we use ICT technology innovation to improve energy efficiency and reduce emissions in various industries. On the other hand, we use technology to combat climate change. An example of this is our use of innovative technologies in a national park in Austria, where we study the impact of climate change and protect nature and wildlife," said Lu.
Data storage is the core product of Huawei's ICT services and a key component of digital infrastructure. During the forum, the topic of discussion was how to innovate data infrastructure for effective storage, movement and use of data, providing customers with a reliable, secure, sustainable and high-performance data storage base. Together, we seek to create a greener, more digital future for the planet.
IDI Forum 2023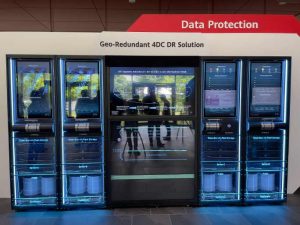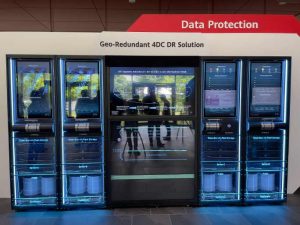 The Innovative Data Infrastructure Forum 2023 conference also raised issues on how to embrace the emerging application ecosystem, efficiently handle large amounts of unstructured data and comprehensively improve data resilience, in order to unlock the value of data towards the evolution of the data warehousing industry.
Data resilience faces severe challenges as ransomware is constantly evolving and the number of attacks is growing at an annual rate of 98%. Unfortunately, more than 14% of companies are unable to restore their data after a ransomware attack. Therefore, it is crucial to move from a reactive response to a proactive defence to ensure greater data resilience. The increase in zero-day vulnerabilities and the huge losses caused by irreparable data reveal the inadequacy of the current enterprise data resilience system.
Emerging big data and artificial intelligence applications pose increased requirements for parallel processing of diversified data. The collaboration model between data warehousing and data applications is being rebuilt to embrace new data paradigms. Cloud-native applications are becoming more common in enterprise data centres. To meet these challenges, reliable, high-performance containerised storage will become a necessity.
As unstructured data used in production and decision-making systems becomes increasingly relevant due to real-time access, the read/write bandwidth and I/O access efficiency of scale-out storage needs to be significantly improved. To meet the need for cost-effective storage of large volumes of unstructured data, innovations in software, hardware and algorithms are crucial for scale-out storage. In addition, with the explosion in data volume, serious data severity challenges arise. Therefore, an intelligent data fabric is required to implement a global data view and unified data scheduling across systems, regions and clouds.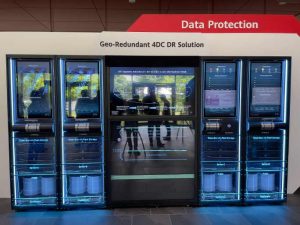 Such a system, which includes networks, applications and hosts, is no longer adequate to meet the latest enterprise data resilience requirements. Data storage is becoming the last line of defence, with more resilience features built into data storage products, such as ransomware detection, data encryption, secure snapshots and data recovery in environments spaced by an Air Gap.
Storage Solutions
Dr. Zhou mentioned in his speech that Huawei Data Storage offers a wide range of products and solutions to meet the changing requirements of our customers and partners. OceanStor Dorado, All-Flash Storage and OceanStor Pacific Scale-Out Storage were recognised in 2023 as a customer choice in Gartner Peer Insights.
To get an overview of the data storage industry, the total shipment of the top five external controller-based storage (ECB) vendors in the world in 2022 was 3 times higher than in 2012. However, this figure is far from sufficient to meet global demands in the yottabyte era. Huawei predicts that this number will increase tenfold by 2032, exceeding 100 exabytes. Data storage solutions must not only prioritise capacity and performance, but also foster new data paradigms, intelligent data structure and intrinsic data resilience, to unlock the full potential of big data and empower the rapid development of the data storage industry.