ICEs In The Cobot Workshop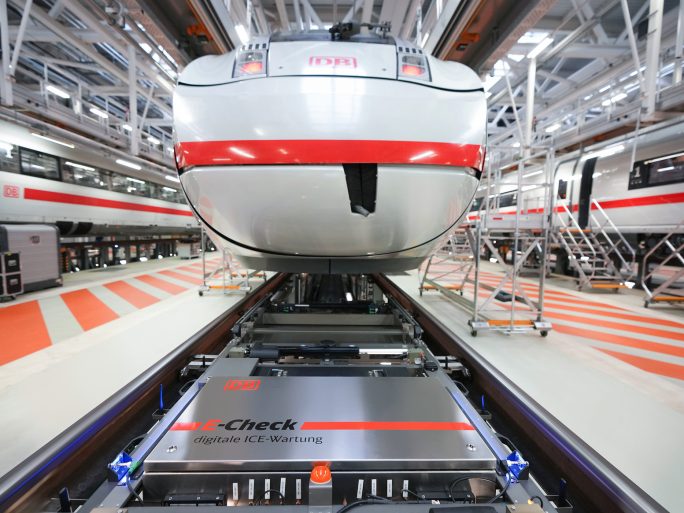 Digital maintenance: Deutsche Bahn invests 55 million euros in robots and artificial intelligence.
The Deutsche Bahn (DB) train fleet is growing. Every month, the Group puts an average of three new ICE trains into service. Robots and artificial intelligence (AI) are now being used to maintain the growing number of trains more efficiently and get them back into passenger service more quickly.
Deutsche Bahn is investing 55 million euros in the "e-check" process. The first ICE plant to be equipped with the new technology is Cologne-Nippes. Berlin, Dortmund, Hamburg and Munich will follow by 2025.
Camera gate scans entire train
E-Check consists of several components. With the help of a camera gate and an optional mobile underfloor device, the trains are inspected from all sides. An AI evaluates the images. Deviations from the target condition are displayed to the technicians in the factory. The human checks the image and decides whether there really is a fault.
If so, a work order is automatically sent to the workshop staff's tablet. The technology is able to detect even the smallest deviations, such as a screw that is no longer properly in place, the need for repairs or "blemishes" such as damaged pictograms on the outside of the train.
Cobots control water supply
The ICE is supplied with fresh water and the waste water is pumped out by so-called cobots. The robots are able to recognize the position of the connections on the different train types fully automatically. To do this, they move along the ICE, open the flap above it and attach the appropriate connection nozzle. Once the supply or disposal is complete, the cobot automatically removes the connectors, closes the flap and moves on to the next carriage.
E-check is intended to relieve the specialists in the factories of standard tasks. According to the rail company, they will be able to concentrate on more demanding tasks such as repairs. This would also increase efficiency: the journey of a 374-metre-long XXL ICE with 13 carriages through the camera gate only takes around five minutes. The entire e-check process, including water supply and disposal, takes one and a half hours, which is only half as long as before when performed by humans.