K.Explorer: an Artificial Intelligence Code Search Engine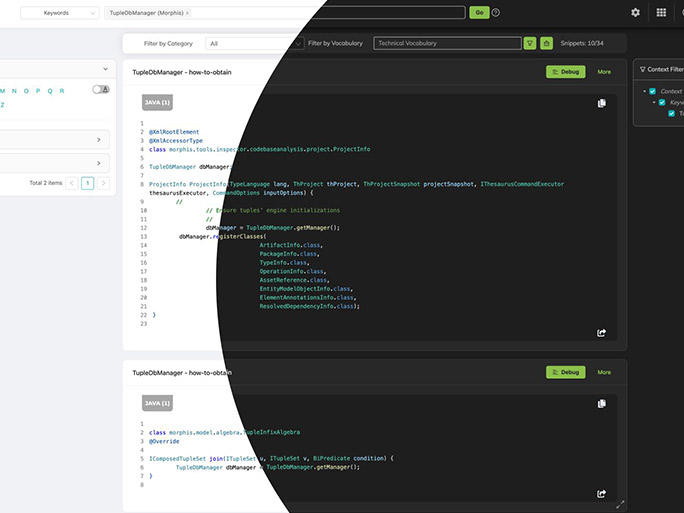 K.Explorer: a code search engine with Artificial Intelligence
Morphis Tech launches K.Explorer, a search engine for programmer assistance based on Artificial Intelligence.
K.Explorer is a thematic search engine that allows programmers to search for code to perform a given function. The tool will suggest the code that best suits that function, thus speeding up the development that you want to carry out.
Programmers: Problem solved
The technology provided by K.Explorer is one of the first of its kind in the world, as it is based on millions of lines of public and open source code from languages such as JAVA, C#, Javascript or Typescript. In addition, this search engine has the ability to understand the natural language that programmers can use to describe a problem. The tool will continue to show possible solutions to solve the problems specified by programmers.
Morphis Tech Founder and CEO Luís Andrade says: "We believe that these types of AI-based tools represent the future. AI is present in many aspects of our daily lives and the software development process is one more aspect where AI will play a decisive role. K.Explorer is not intended to be just a spelling/syntax accelerator, like those that speed up the rewriting of messages on mobile phones. It is much more than that, as it allows the developer to suggest code that best solves a given problem or function. The added value of this tool is not in writing faster code, but in writing better code.
Models adapted to needs
Morphis Tech says it is a tool for companies that develop software for sale, application development services, or those organizations that develop their own systems. K.Explorer will be available in three versions from 21 October. The versions are:
Community: to search public code for free.
Professional: Code search and support mode is included.
Enterprise: Organisations will be able to use public code or insert their own corporate code.