New Work: Home Office or Rather The Office?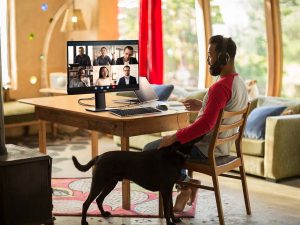 Survey: Around 53 percent of respondents feel more flexible in a home office and 43 percent are more satisfied there.
This is the result of a survey conducted by Enreach in April 2022 in cooperation with the market and opinion research institute YouGov. The conclusion: home office is now an integral part of working life and is viewed overwhelmingly positively by employees. "The pandemic years have established working from home, employees now no longer want to miss the benefits such as greater flexibility and often better work-life balance. However, our survey also shows that there are still challenges to be overcome in the transition to hybrid working. Three issues in particular stand out where employers need to take action," says Ralf Ebbinghaus, managing director of Enreach.
Maintaining the work-life balance in the home office
Around 53 percent of respondents feel more flexible in a home office than when working in an office, 43 percent feel more satisfied, 40 percent more productive and 39 percent more balanced. The positive effects of working from home are thus clear. But the survey also reveals difficulties: 51 percent can be reached outside of regular working hours, for 53 percent the boundaries between work and free time become blurred, and as many as 33 percent can't really switch off after work in the home office. This so-called telepressure leads to mental exhaustion and, in the worst case, burnout. "Companies must take measures to prevent this. Guidelines that clearly state that employees do not have to be reachable after hours can already help. Communication solutions that allow users to control their availability in a targeted manner and, for example, ensure that only calls from private contacts or important customers are put through outside of working hours, also relieve the burden on employees – 36 percent of those surveyed agree with this," explains Ralf Ebbinghaus.
Improve internal communication
Communication with colleagues and superiors is always a key issue in companies and must also run smoothly in the home office. Around 15 percent of respondents see improved communication with colleagues in the home office, while 16 percent feel that the exchange with superiors is better. This contrasts with 33 percent and 27 percent, respectively, who feel that communication with colleagues and superiors has deteriorated in the home office. An essential basis for successful communication is a suitable ICT solution – in other words, an overall solution that optimally combines information technology (IT) and telecommunications (TC). It helps to design communication channels efficiently and to optimize information flows and processes. 43 percent of respondents believe that such a solution can help improve communications. In addition, companies must ensure clear structures and a suitable culture. Managers should ensure that they stay in touch with their employees and that colleagues exchange information on a regular basis.
Using the right technology
If almost half of German employees believe that communication solutions offer them crucial advantages in their daily work, it is even more important that they have them at their disposal. After all, 49 percent of those surveyed believe they are provided with a suitable solution by their employer, but 36 percent see things differently and are not at all satisfied with their digital workplace equipment. 27 percent believe that they do not have all the functions they need for their home office work, and 25 percent do not have all the functions they need for working from the office. When it comes to hybrid work, the picture is even clearer: 34 percent of respondents say that their current communications solution cannot be used smoothly and with the same quality in the home office and in the office.
"Even though many employees are already satisfied with their communications software, there are still many employees who do not have the solution they need. Companies need to look very carefully at what ICT solutions they have in place and what they need in the new normal. Isolated solutions that are separate from each other make life difficult for users: different communication channels compete with each other and make employees feel stressed or distracted. With our Converged Contact Solutions, we are creating a counter design: a user-oriented interplay of different tools and contact channels, so that people retain control over their digital workplace – always with the aim of enabling employees to concentrate on what is really important," concludes Ralf Ebbinghaus.
About the survey
The data used is based on an online survey conducted by YouGov Deutschland GmbH, in which 2,069 people participated in April 2022, including 548 respondents who work (partly) in a home office. The results were weighted and are representative of the German population aged 18 and over.