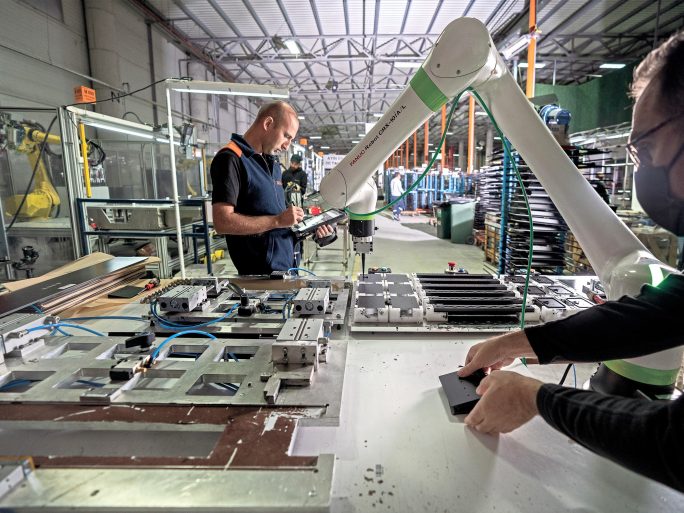 Research project "Fluently" aims to optimize teamwork between humans and machines.
Robot manufacturer FANUC is supporting the development of an empathetic robot for use in industry. The EU-funded "Fluently" research project, led by Roboverse Reply, aims to create a robot platform that enables true social collaboration between humans and machines.
The three-year project has two goals: to develop an artificial intelligence-based wearable device for industrial workers and robots, and to develop a special training center called "The Fluently RoboGym" where factory workers and robots can train to interact smoothly in the industrial process.
Robots should recognize feelings of human
A total of 22 academic and industrial partners are involved in the project, which is supported by Horizon Europe, the EU's main funding program for research and innovation. The Laboratory for Automation, Robots and Machines at the University of Applied Sciences of Southern Switzerland (SUPSI) is responsible for technical coordination. In addition to researchers from SUPSI, scientists from other leading institutions such as Politecnico di Torino in Italy and Waseda University in Japan are involved in the project.
"Workers are often exposed to high cognitive or physical loads," explains Professor Anna Valente, who heads SUPSI's Laboratory of Automation, Robotics and Machines and is a member of the Swiss Science Council. "When a human works closely with a robot, it's important that the robot recognizes the human's feelings and reacts accordingly, for example by adjusting its dynamics."
Industrial robots are equipped with sensors
Good cooperation between humans and machines is particularly important in modern smart factories, where production volumes and products are constantly changing, and where mobile transport systems and robots sit alongside static workstations. "Our industrial robots are already equipped with sensors for seeing and feeling, but until now they have not been able to recognize human emotions," says Ralf Völlinger, General Manager of the Robots Business Unit at FANUC Europe. "We want to make it possible for even more people to use our industrial robots easily and efficiently in the future."
The "Fluently" researchers are focusing their development work on three value chains that are important for the European economy: the disassembly and recycling of batteries for e-bikes and electric vehicles, testing and assembly processes in the aerospace industry, and the refurbishment of highly complex industrial parts using laser processing.
Robots free workers from stressful processes
"These processes are currently performed almost exclusively manually, which leads to mental and physical stress among workers," says Professor Anna Valente. "Workers on the shop floor, for example, get stressed when they dismantle batteries because of the risk of explosion. Physical stress from working with heavy parts in the aerospace industry, for example, can also cause stress."
In the future, robots could relieve workers of at least some of the stress associated with these processes, as well as take over some of the more time-consuming tasks. On the one hand, this would help retain workers' skills and experience, and on the other hand, it would increase the opportunities for them to upgrade their skills.
"We want to train robots to be teammates of humans, supporting them as best they can," says Professor Anna Valente. Ralf Völlinger of FANUC Europe adds, "As a robot supplier, we are proud to support this pioneering development work with our robots and technical know-how."