SAP Introduces Joule, a Natural Language Generative AI Assistant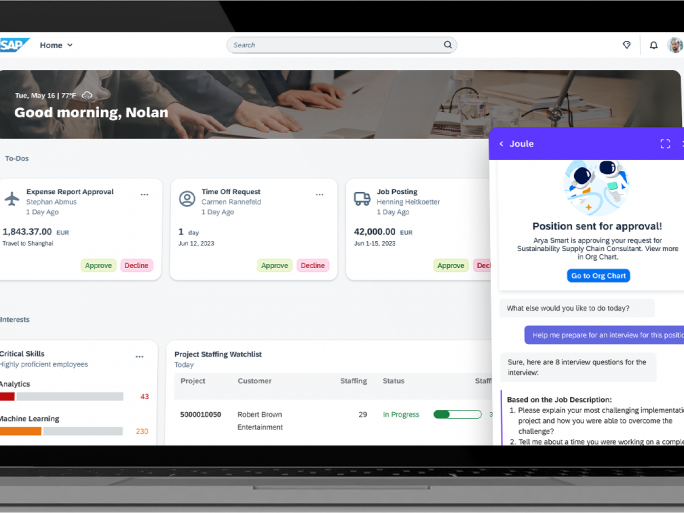 It will be available with SAP SuccessFactors and SAP Start in November and with other solutions from 2024.
SAP is introducing a generative natural language artificial intelligence (AI) assistant or co-pilot. Named Joule, it will be integrated into cloud solutions that drive critical processes with the goal of transforming the way businesses operate.
It will be integrated into HR, finance, supply chain, procurement, and customer experience applications, as well as the SAP Business Technology Platform.
Joule is expected to be available with SAP SuccessFactors and SAP Start in November and with SAP S/4HANA Cloud Public Edition in early 2024. This will be followed by SAP Customer Experience, SAP Ariba, SAP Business Technology Platform, and other updates to the SAP portfolio.
Joule can classify and contextualise data from different systems to gain insights and help workers in their tasks.
"Working with just Joule is like asking your smartest colleague to give you a hand," SAP explains. "Employees simply ask a question or pose a problem – in plain language – and receive intelligent answers drawn from the vast amount of business data, text, images, and knowledge from across the SAP portfolio and from third-party sources."
"With nearly 300 million corporate users worldwide regularly working with SAP cloud solutions, Joule has the power to redefine the way businesses and the people who drive them work," said Christian Klein, CEO of SAP.
"It leverages SAP's unique position at the nexus of business and technology and builds on the relevant, reliable, and accountable approach of Business AI," adds Klein. Joule will understand what you mean, not just what you say," he concludes.