Sensors Keep An Eye on Drivers' Health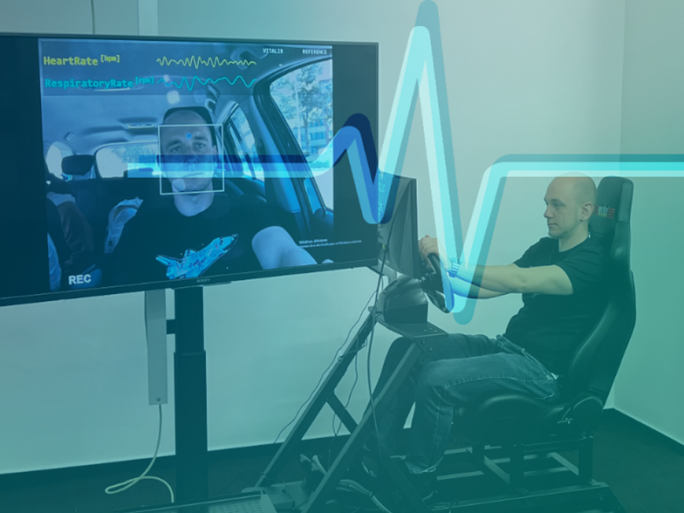 The Fraunhofer Institute is developing AI algorithms to increase safety and comfort in transport vehicles.
Optical sensors record vital data such as heart rate or breathing rate, which are then evaluated by algorithms developed in-house. The algorithms can be used in a modular fashion and should be easy to integrate in the vehicle and in existing systems. This opens up completely new measurement possibilities for automakers.
In other words, the vehicle of the future will no longer focus solely on road traffic: "Intelligent image and signal processing coupled with AI-based algorithms extract minute changes in intensity or micro-movements on the skin or human body. Vital parameters such as heart rate and breathing rate can ultimately be extracted from the signals obtained," explains Christian Wiede, Head of Embedded AI at the Fraunhofer Institute for Microelectronic Circuits and Systems IMS.
The respiratory rate of individuals, for example, can be made visible and measurable via minute movements of the chest. The lesser-known optical phenomenon of photoplethysmography, on the other hand, offers the possibility of recording the heart rate. This phenomenon is triggered by the contraction of the heart and causes very subtle changes in brightness on the skin. Not visible to the naked eye, these changes can still be detected by normal cameras.
Potential advantages
In terms of comfort and safety, the development offers numerous advantages for the mobility of the future: In private, public and industrial vehicles, monitoring the health status of car and professional drivers or locomotive drivers can anticipate and, in the best case, prevent emergencies. In addition, comfort functions such as temperature, sound and light control can be tailored even better to the driver and offer a better driving experience.
Camera-based measurement of this kind is contactless and requires no active intervention by the driver. This not only ensures greater comfort, but also increases acceptance for the use of such systems. Fraunhofer IMS has developed a modular software library that can be easily integrated into existing applications and assistance systems in the vehicle. This ensures that integration is possible regardless of the vehicle manufacturer or supplier. In the future, the system is to be expanded to include additional parameters such as blood pressure, stress symptoms or alcohol-related intoxication.