State of Marketing: Challenges, Priorities and Trends for 2023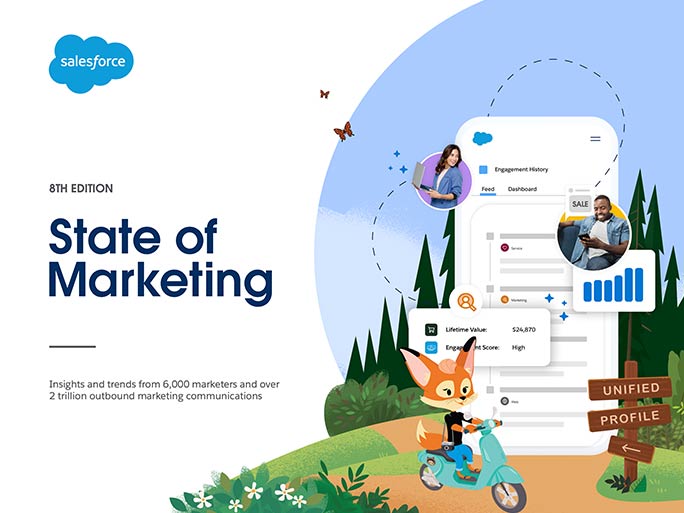 87% of marketers believe their work delivers more value despite socio-economic uncertainty, according to Salesforce.
Salesforce has released the 8th edition of its "State of Marketing" report, which captures the challenges and priorities of marketing departments, and identifies the trends that define how companies engage with their customers.
The Salesforce study was conducted by surveying the 6,000 marketers who participated, who said that their work is providing increasing value despite macroeconomic and employment uncertainties. This was indicated by 87% of respondents globally (85% in Spain), 10 points more than in 2021.
Challenges and Priorities
Salesforce's State of Marketing report points out the 3 priorities of marketing departments in Spain. For professionals in this sector, the creation of a cohesive customer journey, experimentation with new marketing strategies or tactics, and compliance with privacy requirements.
On the other hand, the Salesforce study also lists the main challenges for marketers. Strengthening innovation in their customer relationships in the face of outdated technologies and tools, improving collaboration with the proliferation of remote teams, and balancing personalisation with customer convenience are the top challenges most cited by respondents.
Customer relationship trends
State of Marketing also presents four trends that define the relationship between companies and their customers.
The first trend indicates that customer relationships are moving in new and traditional directions, as marketers are investing in a combination of channels and technologies to reach audiences in new ways and build lasting relationships. Audiovisual media, such as TV and OTT, audio and digital content are the channels that have seen the biggest increase in usage in the last year by marketers in Spain. In contrast, email marketing remains dominant, accounting for more than 80% of all messages sent through the Salesforce Marketing Cloud.
As a second trend, the State of Marketing report states that marketers are navigating a complex technological and regulatory landscape. Although 81% of Spanish marketers continue to invest in third-party data, 60% say they have a fully defined strategy to move away from this data source. Among the actions implemented by professionals in Spain, we find incentive programmes for clients to obtain information (56%), the creation of their own data management strategy (54%) or a cross-data management strategy (52%).
The third trend in the Salesforce study points out that KPIs are changing as marketers optimise information in real time. At all stages of the marketing funnel, marketers are increasing the number of metrics they track year after year. Speed to insight remains a competitive advantage. 84% of marketing organisations in Spain interact with customers in real time through one or more channels.
Finally, the fourth trend is that remote teams are improving with collaborative technologies. Managers are investing in new collaboration tools that facilitate communication between teams and customers. The move to virtual environments has not been easy and, in fact, 74% of Spanish marketers say it is more difficult to collaborate now than it was before the pandemic. Collaborative tools are an important ally in this situation and, on average, respondents in Spain use 4 of these tools.