The Hybrid and Open Cloud, according to Red Hat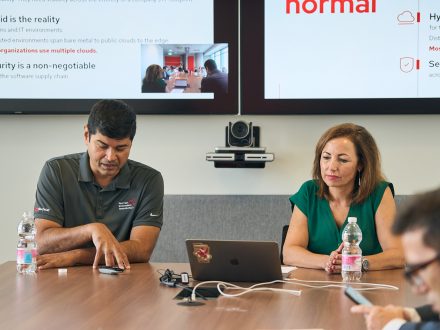 The software manufacturer and main promoter of open source brings to Spain the innovations shown at the Red Hat Summit congress. We review them in this article.
Red Hat continues its commitment to open source software, increasingly focused on the hybrid cloud.
It is true that it has undergone several changes over the last few years, both in terms of leadership (with different appointments) and in terms of ownership, when it was acquired by IBM three years ago. But its strategy remains unchanged, with open source and hybrid cloud at the core of the business.
Just yesterday the appointment of Matt Hicks as CEO was made official, replacing Paul Cormier (from now on in the presidency of Red Hat).
Hicks was the driving force behind Red Hat Openshift, the platform specialized in the management of Kubernetes containers and their deployment in the hybrid cloud and multi-cloud in a unified way. This is one of the company's products that is currently growing the most, so this appointment makes a lot of sense and clears up any doubts about the company's strategy for the coming years.
A strategy that is set in a context of "new normality" after the pandemic, but this time referring to continuous innovation based on open source and the developer community as the driving force behind it.
According to the company, the new normal means a streamlined application and service development experience, i.e., independent of the environment to which any application is directed (traditional or cloud). But, in addition, ensuring a strong consistency to simplify the complex without skyrocketing costs.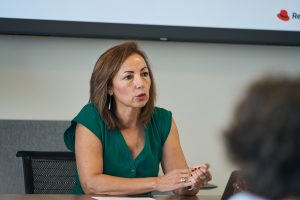 Julia Bernal, country manager, Red Hat Iberia
Red Hat seeks, in short, to provide tools and resources that overcome the heterogeneous systems that have been generated with the meteoric evolution of the cloud in its various aspects.
Paul Cormier himself declared last year that "it is no longer enough for any company to behave like a software company. Now, every CIO is a cloud operator", in clear reference to hybrid and multi-cloud environments, present in a large percentage of organizations worldwide.
Last but not least, security is also non-negotiable for Red Hat. It must be implemented throughout the software supply chain, in every link of the service or application being developed.
It was Julia Bernal, Country Manager of Red Hat Iberia, who confirmed this strategy and consolidated results in our region, very much in line with the global growth of 21% that the multinational company achieved in the first quarter of 2022.
Both Red Hat Openshift and Red Hat Enterprise Linux (RHEL) are gaining market share thanks to these unified capabilities to operate in any environment.
The next step, in his words, is to expand Edge Computing and Artificial Intelligence functions to the different services available: "We want our technology to work everywhere, something we are also achieving with the commitment of our partners," Bernal pointed out at a press conference with the specialized media. "Everyone is looking very favourably on open source," he said.
With its RHEL operating system alone, the technology ecosystem will generate a turnover of 100 billion dollars this year, and this figure is expected to rise to 150 billion dollars by 2026.
New features presented at the Red Hat Summit
One of the main novelties was the launch of the new version of its operating system, RHEL 9, which the company itself calls the epicenter of innovation in the hybrid cloud and multi-cloud.
Its installation in physical and virtual environments, as well as in private and public clouds and in edge computing environments, makes RHEL an increasingly popular choice in any type of organization.
This latest release promises more flexibility and freedom to innovate in the hybrid cloud without leaving behind existing workloads and applications.
It also adds greater efficiency and simplification during scale deployments, those that require a large number of instances in the environments described above (physical, virtual, private, public or at the perimeter of networks).
Another important announcement comes from Red Hat's joint work with General Motors (GM). This is Red Hat In-Vehicle Operating System, a version of RHEL adapted to the automotive world that aims to become a standard in the automotive industry, specifically to develop a reliable and secure operating system for any type of vehicle.
Until now, this sector has not developed as quickly as expected due to the lack of standards that would allow the entire ecosystem to develop new reliable and secure business models. Red Hat In-Vehicle Operating System has been developed precisely to achieve an open platform that can be used by any manufacturer. And the first to take this step will be the giant GM thanks to the collaboration between the two companies. Very soon we will see the first "software-defined vehicles based on open source".
Still on the subject of new products shown during the Red Hat Summit, Red Hat Edge stands out as an extension of the company's portfolio to cover network perimeter environments in greater detail and facilitate their management and deployment in an increasingly distributed world. Automation is one of the strengths of this initiative and something necessary for the sharp increase in instances that are created every day to process huge amounts of data from multiple sensors and sources.
Red Hat has also announced new security capabilities precisely to cover all levels in the software supply chain with an additional layer to secure every deployment.
Special mention for Red Hat Ansible Automation Platform, which is now available on Microsoft Azure as part of the interoperability and collaboration efforts between the two companies. In this way, the IT automation capabilities offered by this platform can be used by customers of Microsoft's public cloud, even with the billing system integrated in Azure while maintaining Red Hat's support.
Meeting with Ashesh Badani, Vice President of Product, Red Hat
After the press conference with the media, this writer had the opportunity to chat with Ashesh Badani, senior vice president of Product at Red Hat, who was also present at the meeting.
Badani has extensive knowledge of the company's entire portfolio and strategy, so the conversation with him was really interesting.
When asked about these recent changes that Red Hat has undergone, including the acquisition by IBM, the executive explained that the company is maintaining freedom of decision and independence at all times, something that was already in its roadmap from the beginning: "an example of this is that with my Red Hat accreditation I cannot enter IBM's facilities, something that happens in a reciprocal way".
But what really matters is that Red Hat remains committed to its traditional partners even though they are direct competitors of IBM in certain areas. Not surprisingly, partners such as AWS, Google and Microsoft, among many others, are still on the same level as IBM when it comes to marketing joint solutions.
In the case of the recent changes in Red Hat's management, Badani explains that this is a natural evolution. After more than 20 years with the company, Paul Cormier has proven to be the ideal person to step into the presidency to make decisions at the corporate level, while Matt Hicks, now CEO, "is the right person in the day-to-day of that strategy to develop the hybrid and open cloud."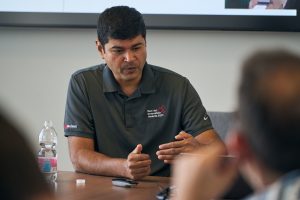 Ashesh Badani, Senior Vice President of Product at Red Hat, with whom we had the opportunity to chat.
The current state of the Open Source Community was my next question to Badani. According to his vision, there has never been such a high degree of adoption and use of Open Source as there is today: "Of course Red Hat is a 100% Open Source based company from the beginning and there is no need to talk about our commitment, but it is amazing to see how any company in the IT market is making use of Open Source, as is the case of Microsoft, Google, AWS, VMware... which are also important contributors to increase and improve these software resources", comments Badani.
In fact, all this allows the innovation that is taking place thanks to open source, something that has always been in its DNA, to be faster and wider.
One of the most interesting examples is that of security, whose developments have traditionally been very closed by software manufacturers. But today it can be said that the trend is to share these resources through open source in order to improve them, which has a direct impact on the security of the entire software supply chain, from the computing core to the network endpoints.
According to Badani, companies interested in making use of open source as part of their applications and services are increasingly interested in the security of these pieces of code that are available and to be implemented in their developments.
To end the conversation with Badani, this reporter asked the question about the current importance of automation in the IT industry, something that Red Hat has been working on for some time now after the acquisition of Red Hat Ansible Automation, among other initiatives.
And the executive is very clear that those companies that do not make use of automation will probably not survive. At a time when resources have to be deployed on thousands of devices, manual work no longer makes sense, so these processes must be automated as much as possible and in record time.
But beyond automating the deployment of instances, Badani explains that the focus is now on automating the security components within the deployment. He gives the example of Linux, which is being deployed in multiple environments and devices, each with its own particularities.
Well, that's where Ansible comes into play to automatically inject the necessary security and allow administrators and developers to know at all times that there are no security breaches and other related issues when performing software deployments in the hybrid and multi-cloud. And all this through a configuration environment, the one provided by the Red Hat Ansible Automation platform, fully unified and working together with the rest of the vendor's open source-based software platforms.