The Latest from Motorola: Phones with Flexible and Adaptive Displays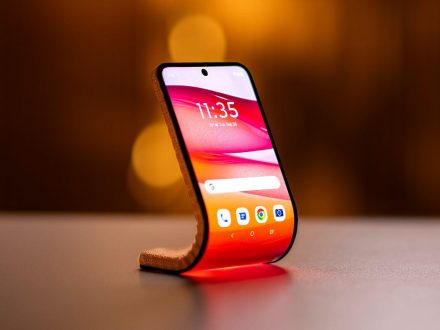 It shows a prototype of a standard flat-format display, which is also capable of bending to rest on a surface or roll up like a bracelet.
Motorola is working on new software and hardware technologies to advance artificial intelligence (AI) and flexible devices.
It said this at the Lenovo Tech World '23 event, where it unveiled its AI approach to drive personalisation and user experience. With a new generative AI model that runs locally it will allow consumers to reflect their particular style. The MotoIA assistant for phones and computers promises to continuously learn and schedule tasks, compose messages or answer questions.
Other new features include AI-based mobile document scanning that enhances Motorola's camera function, a private content blurring option that clouds names and profile pictures, or an AI-powered summarisation solution to extract key messages from long texts.
On the hardware side, Motorola has already developed a prototype of a flexible and adaptive FHD+ pOLED display that is characterised by its ability to adapt to the needs of the user. This screen can bend or change shape according to the needs of the moment, which means offering a standard flat smartphone format, folded and resting on a surface or rolled up.
In its flat version, the screen offers 6.9 inches and a full Android experience. When upright and resting on itself, it allows you to work with 4.6 inches. When worn on the wrist as an armband, it is similar to the external display of the motorola razr 40 ultra.