Virtual Discovery Tour Through Operating Theatre and Treatment Room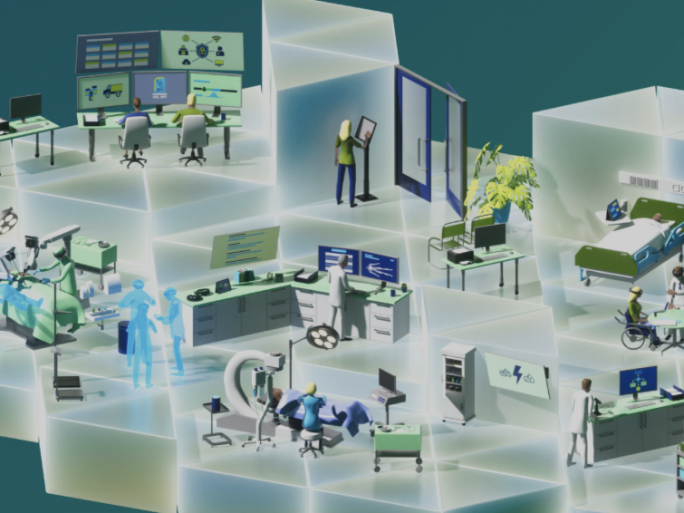 Interactive online tool from KI.NRW shows use cases of artificial intelligence in hospitals.
There are numerous possible uses for AI applications in hospitals. With KI.NRW's browser-based tool "K2I.Welten", interested parties can now intuitively navigate through a multidimensional hospital landscape and explore for themselves where AI systems are already providing support or will do so in the future. The KI.worlds are available free of charge on the website welten.ki.nrw/hospital and will be supplemented by further entries in the future.
Concrete AI focal points
The total of 28 applications are arranged in five thematic islands: Operating Room, Treatment Room, Patient Room, Shock Room and Administration. Each application is explained briefly and comprehensibly in an info box. A filter function also offers a more targeted search to highlight specific AI focal points such as "image recognition and understanding", "speech technologies" or "data analysis and prognosis" in the AI.worlds.
"All applications were contributed by our flagship projects 'Innovative Secure Medical Campus' and 'SmartHospital.NRW' and thus either originate from real everyday hospital life or are currently being developed for it," says Christian Temath, Managing Director of KI.NRW.
Major challenges
The use of AI is an important building block for the hospital of the future: "In the medical sector, we are currently facing major challenges for medical staff in view of the shortage of skilled workers and demographic change. Artificial intelligence applications are a great opportunity here to provide support at the crucial points and to automate processes. It is important that we raise awareness at an early stage and sensitise people to the topic," says Professor Ulrike Attenberger, Director of the Clinic for Diagnostic and Interventional Radiology at the University Hospital Bonn and head of the AI.NRW flagship project Innovative Secure Medical Campus.
Educational work is also a focus at the University Medical Centre Essen. The prototype AI applications developed in the project are on display in the recently opened SmartHospital.NRW showroom.