When Drones Deliver Packages Instead of DHL and Co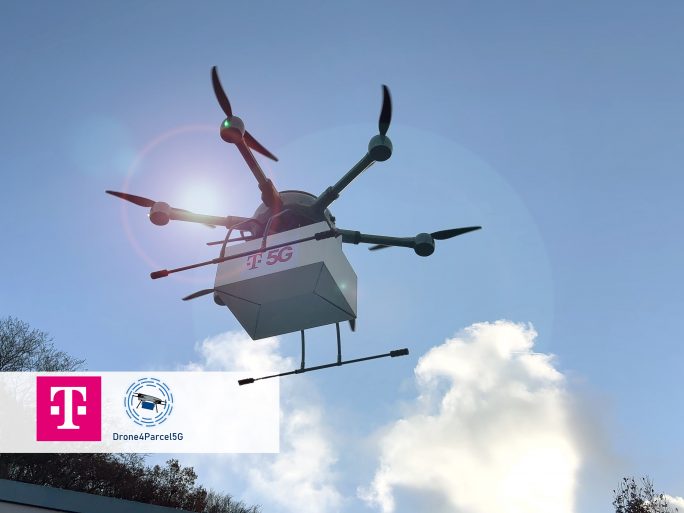 Telekom's 5G network makes autonomous delivery drones fly / Higher range and secure data communication for drone flights.
Telekom is providing a 5G campus network for the "Drone4Parcel5G" research project in the South Westphalia region. The aim of the project is to test the operation of autonomous delivery flights with parcel drones based on 5G. The test site in Rüthen in the district of Soest will be equipped with a special mobile 5G cellular container that will supply the area with the latest mobile communications standard for the duration of the project. This will enable researchers to test delivery drone flights in conjunction with 5G technology under real-world conditions. The drones can transmit sensor, image and flight data via the 5G campus network. With the local 5G network set up at short notice, Deutsche Telekom is implementing the new business customer product "Campus Network Temporary" for a customer for the first time.
5G is the basis for autonomous drone delivery service
Until now, drones still have to be controlled by a pilot on sight. In an autonomous drone delivery service via 5G, it would be possible in the future to coordinate and monitor several drones simultaneously in real time via a central control station outside the line of sight. In doing so, the 5G drones autonomously bring goods from point A to point B, take charge of optimal route planning, and react to obstacles to avoid collisions. A drone fleet operated in this way massively increases the range and efficiency of drone flights. At the same time, autonomous drone operation places particularly high demands in terms of security and stability of data transmission. The project in South Westphalia is therefore investigating both 5G communication between drone and base station as well as from drone to drone.
Drone4Parcel5G
By the end of 2023, the "Drone4Parcel5G" project, led by the University of Applied Sciences of South Westphalia, will develop a system for planning and movement control of parcel drones together with other partners from the region. The state of North Rhine-Westphalia had provided funding of 1.6 million euros as part of the "5G.NRW" competition. In the project, delivery by drone is to be tested on the basis of initial deployments for pharmacies and in the industrial sector for so-called C-parts management – for example, for the delivery of tools and metal goods in technical wholesaling or the delivery of medicines to rural regions. Also involved in the project for this purpose are drone manufacturer Third Element Aviation and KL-Group | Koerschulte + Werkverein, a wholesaler specializing in customers from industry and trade.
5G campus network from the container
The "Campus Network Temporary," used for the first time in the delivery drone project, makes it possible to supply a defined area with additional 5G connectivity flexibly and at short notice via Telekom's public network. It combines the public 5G network with a virtual private network. This is because, if required, a certain safety-critical part of the data traffic is transmitted logically and separately via a virtual private network in the locally reinforced public 5G network. This private data traffic can also be prioritized. This guarantees high security and maximum 5G availability for mission-critical applications – such as data communication between autonomous delivery drones.
With the new Campus solution, 5G network capacity can also be temporarily increased at events, open-air events, construction sites or in new development areas, for example. To be able to use the new Campus network product, a transportable transmission station including mast and antenna technology is set up at the customer site. Depending on requirements, various mobile communications containers with mast heights of between 10 and 30 meters are available.