Artificial Intelligence Advises Otto Customers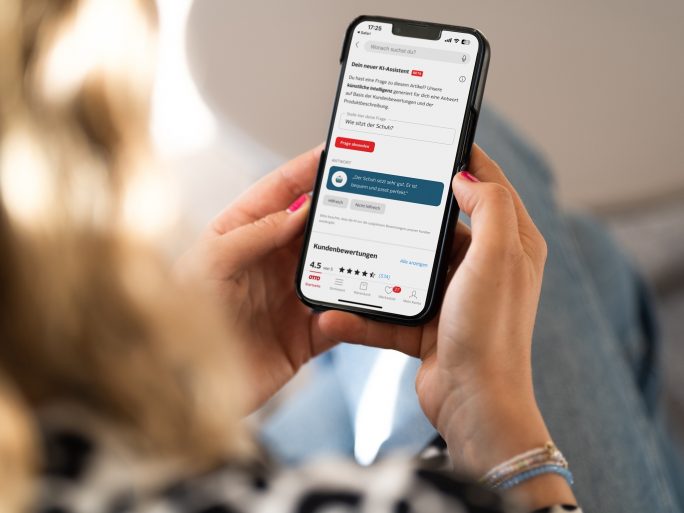 With the help of generative AI, the online retailer wants to improve product advice for its customers.
Customers enter their question in a chat bar directly above the product reviews on otto.de. They then receive an answer within seconds, based on the existing ratings, product description and product title. To ensure that the answers in spite of the subjective product ratings are as balanced as possible, OTTO only uses the AI assistant across all assortments for items with at least 50 product ratings. At the start of the test run, this option is available for around 180,000 items – from shoes and carpets to coffee machines and sofas.
More satisfied customers and fewer return
The long-term goal of the AI assistant is better orientation, higher customer satisfaction and lower return rates. To achieve this, OTTO uses the PaLM 2-"Large Language Model" (LLM) from Google and combines it with its own data such as reviews, the product description and title with the help of Google Cloud Vertex AI. The data always remains with OTTO. The LLM ensures that the AI assistant recognises questions and answers them in the best possible way, even if there are spelling mistakes or customers use colloquial language. The AI Assistant was developed by the Otto Group's "Digital & Consulting" team.
"An artificial intelligence that supports customer service and advises on the basis of such extensive data is a milestone for online retail," says Olaf Schlüter from OTTO. The test run with the AI assistant gives us the opportunity to compare exactly whether and how helpful the AI really is for customers." That's why the retailer is working with two groups during the test phase: Half of the customers will see the AI Assistant, the other half will not have access for the time being.