How Cognizant's Technology is Influencing Aston Martin's F1 Team Success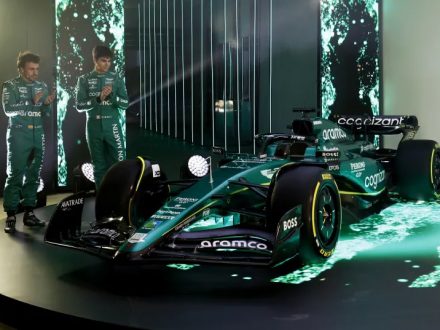 We take a closer look at how Aston Martin works with data to extract its value and aid decision making during each Formula 1 Grand Prix.
The partnership between Cognizant and Formula 1 team Aston Martin goes beyond just putting a logo on the car. Of course, this initiative is important for the software manufacturer in terms of introducing the world to a brand that is not too familiar to those outside the ICT world. Not surprisingly, Cognizant's Spanish website has become the company's most viewed website worldwide thanks to the addition of Fernando Alonso to Aston Martin's F1 team.
But this partnership also has a component of joint work between both parties with a clear objective: to make better decisions faster in a sport where every millisecond counts.
For some years now, F1 has had another variable in addition to the traditional three: driver, car and engineers. We are referring, of course, to the data, all the information that is generated around each race, from the weather conditions to the state of practically every part that is assembled in the cars.
Not surprisingly, each car has up to 400 sensors distributed in key components, such as the tyres. Knowing the temperature and condition of each tyre in real time is vital for a successful race strategy. All these sensors generate a huge amount of data that is transmitted for further processing and decision making, a complex process that requires the latest technology. This is where Cognizant comes into play as part of the Aston Martin team.
On the occasion of this weekend's Formula 1 Spanish Grand Prix, Silicon had the opportunity to interview Mike Krack, Aston Martin's Team Principal, and chat with Pedro Martinez de la Rosa, Aston Martin's ambassador. Both agree on the growing importance of data in making decisions before, during and after each race.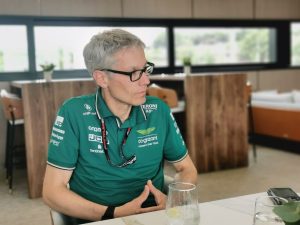 To achieve this, Cognizant is working with the team on a number of levels. For example, it has developed a data and intelligence layer that allows for much more refined reporting as part of Aston Martin's ERP system, as well as a cloud infrastructure to house all the information for efficient, real-time access. It has also helped the team integrate those hundreds of sensors into the race cars via an Internet of Things platform. Cognizant has also helped turn the team's facilities into smart factories using 5G technology.
In addition, the software vendor is also heavily involved in the development of new processes, integrations and dashboards at the financial level, giving Aston Martin managers greater visibility of what is happening with budgets allocated at various levels.
Krack confirms that the partnership between Cognizant and Aston Martin goes beyond traditional sponsorship. The two teams work closely together as Aston Martin typically has mainly engineers specialising in mechanics, electronics and so on, so it's important for them to have Cognizant experts working on the data side of things to extract valuable information, understand certain issues and get different perspectives that wouldn't normally be possible.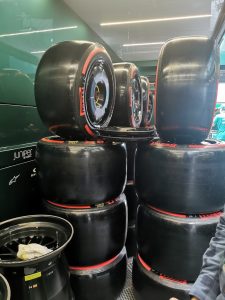 Even in terms of privacy, Cognizant has also implemented appropriate measures in these cloud platforms to ensure that Aston Martin's intellectual property is secure. It is important to bear in mind that any data leaks in car development can ruin an entire season as other teams could have access to it.
Focusing on the data generated at each race, Krack points out that it is a huge amount of unstructured information from video, radio communications, weather forecasts, telemetry and all the sensors distributed around the car. The question is how all this data can be processed and cross-referenced efficiently and in real time, not only with data from each race, but also with data from previous Grand Prix races or from the simulator. The answer lies in the technology implemented by Cognizant, which is able to unify gigabytes of data in real time to provide the high-value information that helps decision-makers make decisions under intense pressure over the two-hour duration of each race.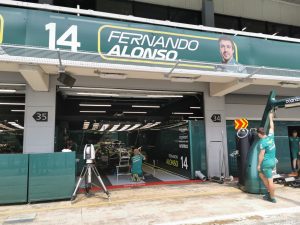 The team boss admits that mistakes can always be made during race decisions, but all that information helps enormously in making decisions as objectively as possible and not based on emotions: "Human beings are affected by emotions. If we are having a bad day, this can affect us in moments of pressure, but all that data helps enormously to make the right decisions. I would say that nowadays subjectivity is reduced to 10%, while the rest of the decisions are made on the basis of objective data, which is a good balance".
Pedro Martínez de la Rosa, supports Krack's words in reference to the huge amount of information that comes out of the cars in real time: "The problem a team has is that in the end there is so much information coming out of the car that it is difficult to know which are the most important or decisive data in the decision making process, even those that are transmitted to the driver, which have to be very concise. To achieve this, you need an efficient and intelligent platform that helps the engineers to identify what really matters at any given moment in the race.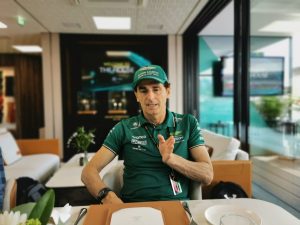 The former F1 driver explained that this is the big change he has experienced over the years since he started in F1 back in 1999 with the Arrows team: "The evolution in the number of sensors and in the monitoring of the cars has changed everything. For example, how the engineers now monitor the condition and temperature of the tyres in real time. In my time, we knew the tyre information when we arrived in the pits, not during the race. We had 3 points to measure the surface temperature (inside, outside centre) at very specific times when pit-stopping, whereas now we have 26 sensors that provide real-time information that can be transmitted to the drivers by radio or via the screen on the steering wheel. All this information is also critical to know what state the tyres need to be in at any point in the race."
This is how technology is influencing motorsport like Formula 1. Let's hope it can also play its part in helping Fernando Alonso take his 33rd win at this weekend's Grand Prix in Spain, his home.