Take Advantage of WiFi 6 with Zyxel SCR 50AXE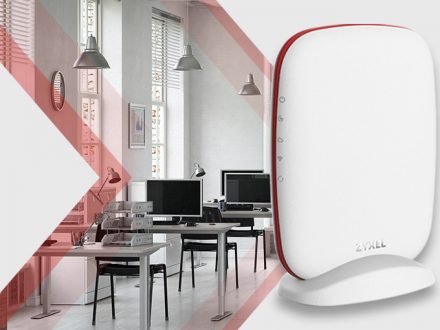 Designed for small businesses, this firewall/router stands out for its security and ease of management with Nebula.
Life is no longer understandable without the internet. Many businesses have been born under the umbrella of interconnected communication networks and the rest have spent the last few years strengthening their digital transformation to embrace new technologies and remain competitive.
Connections are now made without the need for cables. Wi-Fi, with standards such as IEEE 802.11ax or WiFi 6, is the perfect ally for the new era of hybrid work. Professionals can be equally productive in and out of the office, even while on the move, thanks to these advances.
Schools are expanding access to resources within the classroom. Retailers bring additional value-added services to their customers. And users in general are able to obtain information instantly without resorting to mobile data.
All of this happens with a significant increase in speed, with no degradation in performance as multiple devices connect to the network. WiFi 6 includes benefits such as OFDMA or orthogonal frequency division multiple access, MU-MIMO for communication with multiple terminals at the same time, and BSS colouring of the basic service set.
Connections over advanced versions of wifi are more powerful thanks to the efficient use of the 2.4 GHz and 5 GHz spectrums, which can be used simultaneously. Latency is reduced and power consumption is more efficient.
Plug and play
Zyxel unlocks the potential of wireless technology through its portfolio of networking products, including the SCR 50AXE firewall/router. This device is designed especially for small businesses as well as home offices and is managed in the cloud with the help of the centralised Nebula platform.
Nebula allows devices to be configured without unpacking them. The SCR 50AXE becomes plug and play on arrival at its destination, making it easy to commission and eliminating the usual need for an expert installer. In a matter of a few clicks, the device is up and running even if you have no prior knowledge of networks.
Monitoring is also done at the click of a button in the browser or via the Nebula mobile app. That is, no additional software or hardware is required. Everything stays connected with Zyxel technology. Other benefits include integrated user management and anytime, anywhere access to monitor and identify problems.
The Nebula Cloud Networking solution is used to connect and secure the SCR 50AXE and other compatible devices. Among its capabilities is the configuration of a single wifi name for the entire network, simplifying administration tasks.
Malware protection
Security is a key part of the Zyxel portfolio. Equipped with threat management capabilities and built-in Zyxel Security Cloud, the appliance offers businesses the ability to thwart unauthorised downloading of malware such as ransomware that locks down systems and blackmails victims with ransom demands.
It also detects malicious vectors and acts against intrusions, advertisements, dark web, and phishing mail campaigns. Because it does not require a subscription, these protection measures are affordable for business owners with more limited budgets.
An informative dashboard shows real-time status and analysis of existing problems. By identifying which clients and applications consume the most bandwidth, potential threats can be identified. Traffic management allows you to see how end devices are behaving on the network and how software is being used.
In addition to its security capabilities, it can identify the country of origin of incoming traffic. If the company installing the SCR 50AXE decides to filter a particular country and there is a match when examining IP addresses, it will deny access to shield the business infrastructure.
It also creates secure tunnels to enable teleworkers in a work environment where remote connections are on the rise. The firewall/router's site-to-site VPN secures home office connections and avoids complex virtual private network configurations.
With Guest WiFi, Zyxel allows you to create a separate guest network. The main network is kept private from external access and confidential data remains protected from the eyes of third parties. There is no need to share the wifi password with strangers.
WiFi 6E
The SCR 50AXE is a tri-band WiFi device capable of speeds up to 5.4 Gbps. Along with the benefits of OFDMA, MU-MIMO, and BSS Coloring, it brings the enhancement of WiFi 6E and the 6 GHz band with super-wide 160 MHz or 80 MHz split channels for ultra-fast connections.
It is powered by a 1 GHz dual-core Cortex A53 CPU, includes 1 GB RAM and 256 MB flash memory, and features multiple RJ-45 ports. Specifically, it has one 1 GbE WAN port and four 1 GbE LANs.